Recovery is not a marathon, but a sprint. To persevere and aim for progression one needs to abide by the guidelines. As an amputee the basic regime is to follow the exercise protocol and keep yourself motivated throughout.
To begin with, below are some basic exercises that you must know and do as an Above Knee Amputee :
Lie on your stomach and lift your stump up from the couch/bed. Do not lift your hip in the process. Now, hold for 5 seconds and release.

Lie down flat on your back and put a 6 inch roll or roll a towel to a similar height, place it under your thighs evenly. Push down into the roll with both thighs and lift your hips off the couch or bed gently. Hold for 5 seconds and release.

Lie on your back with a pillow between your legs and fasten a belt around your thighs (as shown in the picture). Now firstly, push the pillow for 5 seconds. Then, push against the belt for 5 seconds. (In an alternate fashion)
Lie on your non-amputated side (side-lying). Lift your stump up on the side and hold for 5 seconds. Relax and move it back gently to the starting position keeping your stump in line with the body.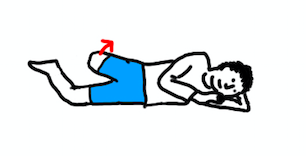 A few tips for doing these exercises :
It is recommended that you do all 4 patterns in 15 minutes and do 2-3 sets each in a day.
While doing these exercises, if you face any pain or discomfort, stop the exercise immediately and take some rest.
Don't hold your breath while doing the exercises, relax and breathe normally.
Are you a Below Knee Amputee? Click here!
It is really important to create achievable goals for your rehabilitation. For further queries you can reach out to us and we'll be there to guide you through-out. It's time to Step it up with Instalimb – Contact us today!